Wat Bo, Jeeves!

I spent the New Year period in Siem Reap (that's in Cambodia and the town you head for if you want to see Angkor Wat).  I didn't mean to go there, my plan was to head down to the beach in Sihanoukville but somehow I ended up at the other end of the country in Siem Reap.  After finally leaving Bangkok I headed for Phnom Penh (also in Cambodia – it's the capital) and went to stay at the excellent Dara Reang Sey hotel .  I stayed there last year and the very charming owner, Dara, said she was delighted to see me back.  Probably says that to everyone but made me feel good all the same.
When I was there in '09 I met a guy called Warren (Woz) who was looking to do some work for an NGO in Cambodia and we said we'd keep in touch.  We sent exactly 3 emails to each other during the whole of  '09 but for guys, that's pretty good – that's male bonding!  Bit of a surprise then when Dara told me Warren was due in the hotel the next day.  And the next day he was just as astonished to see me sat there too.  He said he's been living in Siem Reap for a couple of months and that I should head up there for New Year as there were a few others turning up who I knew too.
He said he was staying in a great place called the New Apsara Guest House, that it was cheap, clean,  close to town, had it's own restaurant, giant rooms and free wi-fi but what made it different to everywhere else was that it was Guest House on the upper floors and supermarket come restaurant on the ground floor.  Warren negotiated a good rate for me for an aircon room and a few days later I was on the bus to Siem Reap.
As the bus approached the town I called Woz and asked where exactly I was headed once I'd left it and grabbed a tuk-tuk.  "It's on the junction of Street 20 and Wat Bo Road – can't miss it".  And I didn't although I was a bit thrown by the state of Wat Bo Road.  On previous visits Wat Bo Road was a dusty, potholed,  unsealed road – but in the space of 12 months it had been turned into a proper tarmac road.  It had kerbs (in places), markings down the middle and – being most impressive and absolutely redundant at the same time – zebra crossings!  But don't step on one and expect the traffic to stop  –  a cosmetic paint job ain't going to stop Cambodians driving like Cambodians.
What was more impressive was that as my tuk-tuk pulled up, the guest house staff took my bag straight up to my room and told me Woz was waiting for me round the corner at an outside table.  He certainly was and as I sat down one of the staff brought a chilled Beer Lao out for me and poured it into a glass.  Now that is service.
The New Apsara is everything Woz said it, er, was.  Other attractions include an ATM,  a shady balcony to catch up on email and just about everything else you need within a 50 meter walk – restaurants,  tour organisers,  laundry and a tuk-tuk rank.  500 meters up the road is a miniature model of Angkor Wat so,  really,  you could spend your whole visit here and avoid the hordes of tourists and the heat.
The supermarket is really well stocked with just about everything you need and the prices aren't hiked up.  Beer Lao (big bottle) is $1.50 – straight from the chiller.  The food is all freshly cooked and is excellent quality and value.  For $4 you can have a huge breakfast with lots of options including fresh fruit, fresh baguette, eggs, bacon, pancakes etc.  And the coffee is the BEST I've tasted in a long time.
You can walk to the centre of Siem Reap in under 15 mins or take a tuk-tuk or moto and be there in 5.  Alternatively turn right at the river and have a walk up through the huts lining the banks and see a different,  more basic Cambodia.  Don't worry,  the folks are all friendly but the experience will show you what a poor country Cambodia really is.
It's not all sweetness and light at the New Apsara though.  A couple of times during my stay there was no water – don't know if this is a regular occurrence but it was a pain.  Wifi works great on the 1st floor but kinda loses it's way going up to the 2nd.  Others said it was a bit noisy in the morning but I never noticed this – but I noticed dogs barking in the night and others didn't.  In the scheme of things,  not great hassles and ones the folks living in the riverside huts probably wouldn't even comprehend as problems.
There's lots of accommodation in Siem Reap and ordinarily I wouldn't have given the New Apsara a second look  –  I don't travel that 'budget'.  But on this occasion I'm glad I listened to Woz – he was (Doh! done it again) spot on.  Lao,  Pov and Bunlot Laska  have a great little guest house here and I'll happily stay here again on my next visit to Siem Reap.
Oh – nearly forgot.  The rooms were spotlessly clean as was the linen on the monster sized bed in my room.  There was absolutely no need to use one of the fantastic Jag Bag silk sleeping liners that I sell from my shop at www.terrevistatrails.com.   Come on guest house owners – lower your standards,  give me a chance here.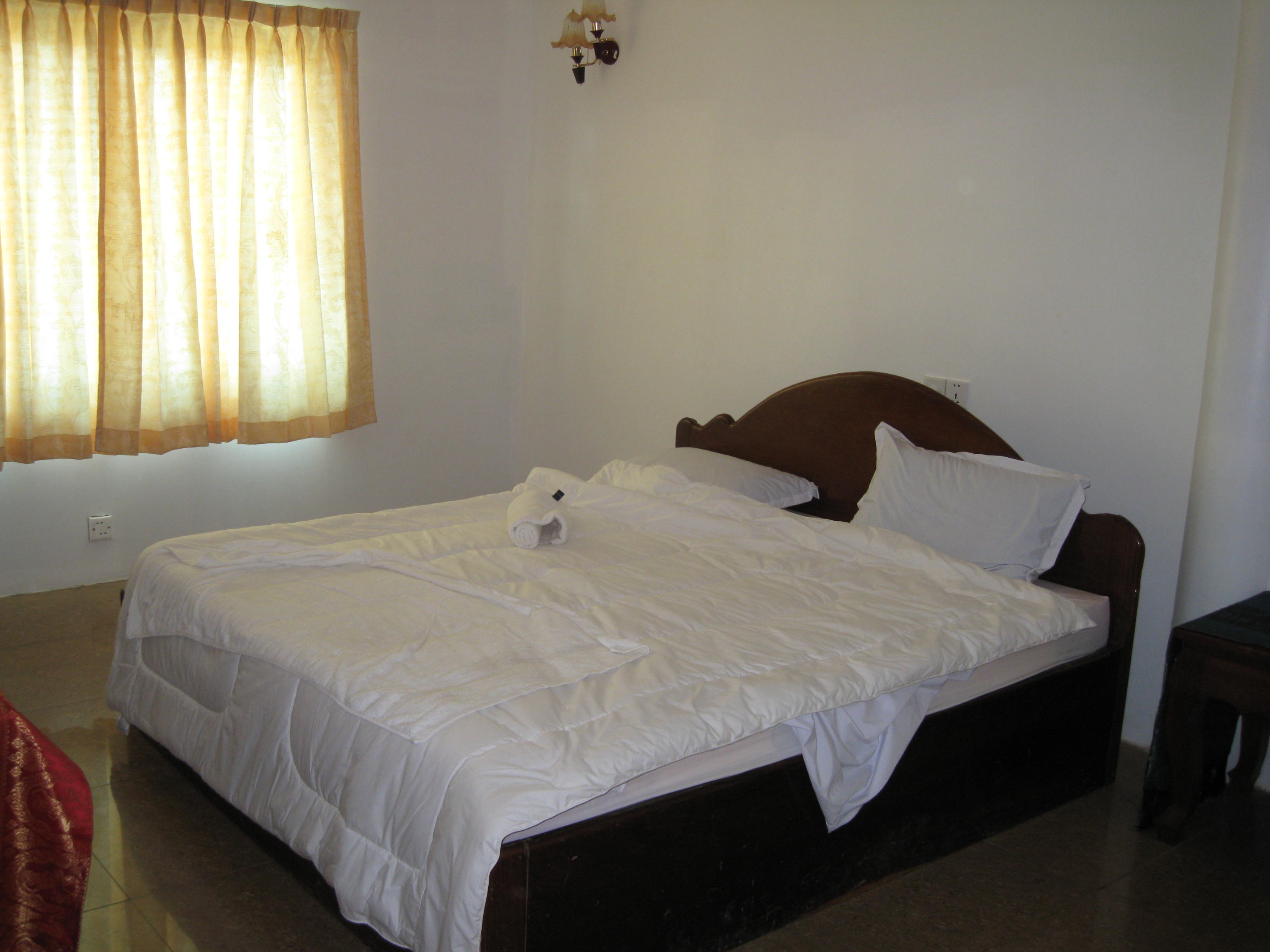 [googlemaps http://maps.google.co.uk/maps?sll=13.357742,103.863115&sspn=0.015052,0.027874&num=10&ie=UTF8&ll=13.357241,103.863738&spn=0.015574,0.027874&z=16&output=embed&w=425&h=350]