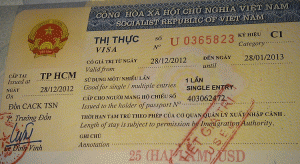 Live in the UK and planning a trip to Vietnam?  The you're going to need a visa!  There are a couple of options:
1) apply to the embassy in London and be charged an arm and a leg
2) apply for a Visa on Arrival, pay a lot less but be prepared for a long wait at the airport
Some points to note.  The embassy in London are pretty efficient and turn visas round quickly but of course you do have to send your passport to them.  You need to send it, and have them, send it back by Special Delivery.  It adds to the cost but no-one in their right mind would send their passport off any other way.  Ok, second class mail is a lot cheaper I'll grant you BUT it's your passport we're talking about.  No passport = NO travel at all.  Anywhere.  Ever.
Also, Googling the embassy will bring up a lot of semi official looking sites which are in fact, nothing to do with the embassy.  They belong to agencies offering to do the visa application for you  –  for a fee naturally.  This is the official London Embassy website:
Official Website for VN Embassy in London
Here are their Tourist Visa Charges – they went up this month and they ain't cheap.
– 30 days, single entry: £54 (regular process takes 5 working days). Express service: £69 (2 day service), £75 (next day service).
– 30 days, multiple entry: £85 (regular process takes 5 working days). Express service: £105 (2 day service), £115 (next day service)
– 90 days, single entry: £85 (regular process takes 5 working days). Express service: £105 (2 day service), £115 (next day service)
– 90 days, multiple entry: £105 (regular process takes 5 working days). Express service: £125 (2 day service), £135 (next day service).
Expensive, but you know you have a valid visa before you travel and you'll be able to breeze through either Hanoi, Da Nang or Saigon airports.  Yeah, I know  – Saigon.  No-one calls is Ho Chi Minh City.  Check out its airline code – it's SGN.
Visa on Arrival
The alternative is the Visa on Arrival (VOA) but don't be fooled, you can't just turn up at the Immigration Desk at the airport and say 'Give me a visa and let me in please'.  Actually, hand over a big enough wedge of cash and you probably could.  If you don't fancy that, you need to obtain a 'Letter of Approval' which is issued by the Vietnam Immigration Department and it  allows you to enter and exit Vietnam for a given time period.
While you can try and get this yourself, it's far easier to go through an agency.  I've used myvietnamvisa.com more than once.  They can arrange the letter for you at a few days notice and send it to you via email.  Print it off and hand it over when you arrive.  They do make a charge for this but it's only $20 (£13) for a single 1 month visa.  They do charge a bit more for multiple entry and 90 day visas but all the details are on their website.  I know others who have used them too and no-one has had any issues with them.
On top of the agency charges, you will then have to pay the actual visa cost at the airport.  As you can see from the prices below, it's a lot cheaper than the Consular visa price  – even after you've paid the $20 agency fee.
45 USD (£29) for single 1 month/3 month
65 USD  (£41) for Multiple entry for less than 30 days ( < = 30 days)
95 USD (£60) for multiple entry for more than 30 days ( > 30 days)
BUT, it's not all plain sailing with a VOA.  You need to have a passport sized pic ready, you will need to have the appropriate form to fill in and you will need the payment ready in cash, either US$ or dong.  And you will need to be prepared to queue and wait and queue and wait a bit more.  At Saigon a few weeks ago, I had my arrival form all completed (downloaded from the myvietnamesvisa website) in one hand, my pic and dollars in the other and my Approval Letter in the other – yes, 3 hands, invaluable when travelling.  I joined the queue at the Immigration office and 25 mins later, reached the window.  My proffered form was ignored, my pic was taken and then stapled onto a new form and I was waved away from the window  – stumped.
I eventually worked out that the form I'd downloaded was slightly different from the one I'd just been handed so maybe that was the problem.  Anyway, I filled in the new form and rejoined the queue again, dollars and Approval letter still at the ready.  30 minutes later I was at the window again, my form, was taken this time, my Approval Letter was scrutinised, my passport too and then I was waved away from the window again.  Minus documents this time and I took this as a good sign.  I then sat and waited for about an hour before I heard my name being called out by a lady in the office.  I was a bit ratty by this time because several people who'd arrived after me had been called forward well before me.  And I was worried about my bag on the carousel, the other side of Immigration.  Would it still be there or would I have to go through the ordeal of reporting a lost bag again?
Anyway, I went up to the lady, she looked at me, looked at my passport picture, looked puzzled, held up my passport at the picture page and asked 'You?'.  Yep, it was definitely me so I paid over my dollars, stepped away from the window and admired my hansome Vietnam visa.  At the Immigration desk the officer detained me for approximately 30 seconds and then I was finally in Vietnam!
Down in the luggage hall there was one bag, all by itself just plonked between two carousels.  It was mine.