Taxi for Terrevista!
In Cambodia, what costs £100 and lasts 45 minutes?  A flight from Siem Reap to Bangkok.  Bangkok Airways seem to have this route sown up so,  if you wanna fly, you gotta pay. On top of this there's the $20 (£13.30)'departure tax' (make sure you have crisp, clean dollars or else they'll be refused) and the cost of getting from Bangkok airport to downtown – say 250  baht (£5) in a tax.  O/T DON'T take an airport limo from BKK airport because it will cost you at least 2,000 – that's £38.50!  I've not done it but I know 2 people who have been talked into doing this.
I'm rambling – back to the costs.  Flying Siem Reap – Bangkok is going to cost you at least £118 and maybe even more if you don't get a special deal fare.  You could go all the way back to Phnom Pehn and fly with Air Asia for about half that price but it's a  5 hour coach trip back tp PP.  And then you'll have to get a tuk tuk or taxi to the airport.  And then you have to fly with Air Asia.  Who will charge you at least $5 per kilo for every kilo you are over their anorexic 15kg luggage allowance.
So what's the alternative?  Easy!  Take a taxi!  Yep, a taxi from your hotel in Siem Reap will cost you less than flying.  You'll be transported door to door, it's comfortable, you won't have to pay a departure tax, can stop when you want, and, depending on your driver and the other traffic, maybe experience the thrill of white knuckle taxi passenger adventure travel.  It's not all roses though, there are some drawbacks.  It's slower than flying, allow for about 6 -7 hours on the road.  You might die in a spectacular pile up.  And, er, that's about it.  Oh, and if being green bothers you, all the meter taxis in Thailand run on LPG not petrol.  It's a win/win situation.
Myself and Yvonne, my travelling companion for this trip, were picked up at the Guest House Supemarket just after mid-day on Sunday 3rd January.  Our taxi was in fact a large car with tinted windows, curtains and aircon.  It had cost $25 and had been arranged by the ever helpful Den at The Peace of Angkor just around the corner from the New Apsara Guesthouse.  Most folk heading for the border set off early morning and this results in big queues and long waits in Poipet.  Leave later, get there early afternoon and there's no waiting.
The road to Poipet and the border used to be know as one of the worst in SE Asia – but not anymore.  It's all newly surfaced, smooth and very, very impressive.  The countryside isn't that exciting, mainly flat and open.  The main interest is in passing the pickup trucks carrying at least 30 passengers – including kids sitting on the cab roof, legs dangling down the windscreen, the driver peering through the gaps.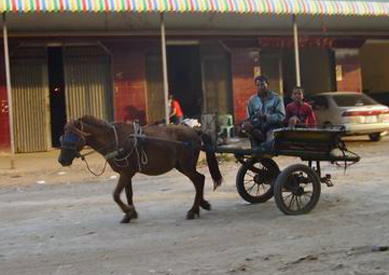 Poipet can only be described as a dirty, dusty, crap heap – obviously a very poor place.  It's taken us about 90 minutes to get here on the empty road with a good driver.  As soon as we pull up the taxi attracts a small crowd of people trying to carry our bags, organise transport or just lead us to the admin offices – only 2o meters away.  We manage to make the short walk to the departure office without any help.  After a quick glance at our passports the impressively uniformed Cambodian official stamps our visas with the exit stamp and we walk into Thailand.  The border buildings are very large and impressive – really out of place.  Even more so when you realise that they actually house casinos and that's why so many Thai's come to this place – it's the Vegas of Cambodia!  Actually it's more like the Reno, Nevada of Cambodia.
There are large queues of tourists waiting to get into Cambodia and they look unhappy standing there in the very hot sun.  I make a mental note never to get here early afternoon if I ever travel from Thailand to Cambodia.  On the Thai side of the border entry into the country means filling in a form (if there aren't any around the room you can get one from the desk of  the  last immigration officer on the right), standing in line for a few minutes and then getting your passport stamped.  And that's it – you're in Rongklua, Thailand.
Once you clear immigration you'll be approached by touts but if you want a taxi, ignore them and walk up to the right past a big sign that says something like 'Tourists This Way' and 100m later you're in a busy market place and there's a taxi company with a big sign saying 'Bangkok 1,800 baht, Pattaya 2,000 baht'.  Have a chat to the man at the desk and your taxi will be organised for you.  You tell him where you want to go in Bangkok, pay him the money and that's it.  There's a cafe right next door so you can take a few minutes out to grab a drink or food and maybe have a bit of a look round.
Where Poipet was dusty and poor, Rongklua is busy with well dressed shoppers and there are lots of late model cars and 4×4's everywhere.  Thai people tend to be small and slim but compared to the Cambodians only a few hundred meters away the Thais here look taller and much better fed.  The contrast really is quite striking.
Yvonne and I were soon heading down the road in a taxi that was a Thai taxi and not the limo we'd enjoyed earlier in the day.  It soon became clear that there was a LOT of traffic and the penny dropped.  I'd forgotten that the Thais celebrate New Year just as hard as the Scots and this had been a holiday weekend – now everyone was returning home to the big city.  The next few hours can only be described as an interesting experience.  Interesting in the way that everyone was tailgating everyone else at 70mph, or overtaking on the hard shoulder, or the central reservation or just driving 4 abreast down a 2 lane road.  Interesting in the way the road was suddenly coned off to one lane and everyone crept past the heavily armed Thai troops who were sitting around waiting for God knows what to happen
I put my seatbelt on, determined to increase my chances of survival in what I felt would be an inevitable crash.  Yvonne, who lives in Hong Kong and doesn't drive, asked quite pointedly why I'd done that.  She either had nerves of steel or simply no appreciation of the potential danger all around.  I told her it was a European custom designed to bring good luck to travellers and keep them out of hospital.  I don't think she bought it.  Unbelievably, we didn't crash nor did we see any pile ups.  By the time we reached Bangkok I was absolutely wrecked – sustaining such a high level of nervous tension for so long really takes it out of you.  All I wanted was a big drink.
The trip from the border to Bangkok took 6 hours but the traffic was bad and we did stop a couple of times for comfort and drink breaks.  And for our diver to chain smoke at least 6 fags – I guess being a driver round takes a big toll on your health.
Overall I guess the taxi experience was than flying and I'd certainly do it again.  I've had friends do the trip the other way and they say it's ok but there are numerous scams to watch out for on the Thai side of things.  Woz told me that when he did it he was approached by an official looking man with a clipboard near the border who said 'Welcome to Cambodia. $25 entrance fee please.'  No shrinking violet and experienced traveller Woz replied that as far as he was concerned they hadn't actually reached the border, let alone crossed it, and as he'd never been charged and entry fee before he wasn't going to pay one now.  But he would have said it much more bluntly and used a lot (and I do mean a lot) of swearwords in making his point. Apparently the man ran off.
There's a good write up of all the travel options for Bangkok to Siem Reap here.